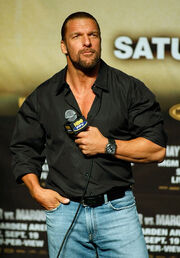 Dati Generali
Ring Name: Thornton Brave
Also Known As: The No More - Man, The Loneliest Man on this planet
Real Name: Thornton Julius Brave
Data di Nascita: 15 Marzo 1981
Provenienza: Watonga, Oklahoma
Altezza: 195 cm
Peso: 127 kg
Theme Song: Learn from this mistake - Down
DESCRIZIONE FISICA E ATTIRE:
Brave è piuttosto possente fisicamente e muscolarmente è ben strutturato. Sul ring indossa sempre un costume nero a slip, sulla cui parte posteriore appare il logo "NMM". Gomitiere, polsiere e ginocchiere invece sono nere a tinta unita.
WRESTLING STYLE:
Brawler, Power
MOVES:
Spear, One leg Boston Crab, Side inverted DDT, Belly to back Suplex, Jumping Knee, The Road of Christ (Crucified Sit Down Powerbomb con l'avversario sul turnbuckle), This Brave Must Die (combinazione di testata, gomitata, ginocchiata allo stomaco e Uppercut finale), Learn From This Mistake (Crippler Crossface), Southern Cloverleaf
FINISHER:
The Brawlbuster (Spinebuster con il gomito piantato sul collo dell'avversario)

GIMMICK/ATTITUDE:
E' un reietto, un uomo che ha rigettato tutto quello che aveva fatto prima e che ha abbracciato un tipo di filosofia violenta e solitaria. Si considera l'unico a sapere veramente il significato della vita.
BIO:
PALMARES:
2 times GWF World Heavyweight Champion (Aug 2011 - Sep 2011/ Sep 2011 - Dec 2011)
1 time GWF Undisputed Champion (Oct 2010 - Dec 2011)
1 time GWF Tag Team Champion w/ Michael Armo as The LawLess (Apr 2012 - Mag 2012)
2011 GWF Royal Rumble Winner