Mlada Morozova



Nome

Mlada Morozova

Ring Name

Mlada Morozova

Soprannomi:

"Tsarina of the ring","Russian Amazon"

Luogo Di Nascita

Mosca,Russia
Mlada Morozova (in russo: Млада Морозова) è una lottatrice di arti marziali miste ed ex wrestler russa.
Gli inizi
Edit
Mlada ha avuto sempre un carattere forte e grazie al suo fisico,ha saputo battere diverse volte anche uomini nelle varie lotte libere. Più tardi,ha avuto modo di approfondire la conoscenza del Wrestling. Ha frequentato,così,diverse scuole di Wrestling in Giappone e negli Stati Uniti disputando anche diversi match.
EWS (2008-2009)
Edit
Il suo primo match l'ottenne il 9 Ottobre 2008 all'ottantottesima puntata di HighWay. Qui,Mlada Morozova,volle subito sfidare due affermatissime campionesse della federazione,Michelle Lynn e Funny Lolita,in un Handicap Match. Ottenne una devastante vittoria che fece ammutolire gran parte del pubblico EWS. Dopo ciò,il suo obiettivo fu quello di impadronirsi della EWS Women's Title che era detenuto da Jasmine. Così al suo primo PPV,Degenerate Horror III,sfidò la Campionessa in un Halloween Costume Hardcore Match subendo,però,una sconfitta grazie all'intervento di Michelle e Lolita. Da qui,la faida tra la Zarina russa e Jasmine ebbe inizio. Nel PPV natalizio Christmas Crush IV ci fù un Divas Guntlet Match con in palio il Women's Title. Qui presero parte tutte le Divas,tra cui proprio Mlada e la Campionessa Jasmine. La lottatrice russa dominò gran parte del match,ma fu schienata a sorpresa da una nuova arrivata in EWS,Angela. Il suo regno non durò molto,infatti Mlada Morozova seppe vendicarsi a dovere sconfiggendo Angela in un Ladder Match nella puntata speciale di HighWay che festeggiava la sua centesima edizione. La Zarina divenne finalmente Women's Champion. Rimase Campionessa in EWS per due mesi e mezzo, difendendo il Titolo contro Jasmine a War In Mask IV e a No Holds Barred. La sconfitta la ottenne a Twister IV perdendo proprio contro Jasmine che ritornò Campionessa. In vista della chiusura,la EWS organizzò degli ultimi show di addio. Mlada volle partecipare e lottò a Last Year 2 contro la rientrante Angela. La Divas russa,durante il match,cadde rovinosamente dal paletto e questo le costò non solo la sconfitta,ma anche un infortunio alla gamba.
GWF (2010-2011)
Edit
Dopo diversi mesi,Mlada Morozova si rimise in sesto volendo continuare la sua carriera nel Wrestling e lo fece debuttando in GWF. Non ebbe un debutto roseo,pareggiò con Lorena Vamp. Nei mesi a seguire,però,cominciò ad inserirsi e a farsi strada nella divisione femminile,arrivando a battere Black Marylin al ppv Extreme Agression e a diventare Campionessa a Summergeddon 2010 battendo Elizabeth Hudson,grazie ad un aiuto non visto di Den Duston. Da lì,cominciò una storyline tra l'allora "The Only One" Den Duston e Mlada Morozova. Duston si presentò come uno stalker invaghito della russa. Arrivò anche a violentarla sul ring. Questo fece scalpore tra il pubblico e le associazioni femministe che vedevano,in tale atto,un elogio allo stupro. Cosa smentita,perchè successivamente Mlada riusci ad imporsi su Den Duston grazie anche all'aiuto di Thornton Brave. Grazie ad altri infortuni,Mlada Morozova cominciò a non essere più inserita in buone prospettive. L'ultima sua avventura in GWF fu contro la connazionale Evangelina Stanislavskij,aiutandola a debuttare bene.
GWF Hall of Famer (2014 - present)
Edit
Nel Marzo 2014 Mlada fu la prima annunciata come membro della GWF Hall of Fame in una puntata di Fear. Il 5 Aprile venne quindi incoronata Hall of Famer dopo l'introduzione di Black Marylin.
Mlada Morozova
Born
 ?????

Mosca, Russia
Nickname
"Tsarina of the Cage"
Nationality
Russian
Listed height
5 ft 7 in (1.70 m)
Listed weight
153 lbs (69 kg)
Division
Lightweight
Style
Sambo,Boxing
Fighting out of
Mosca,Russia
Association
Gruesome Cage Fighting
MMA Record
Wins: 2

Loses: 1
Carriera nelle MMA (2012 - present)
Edit
Dopo la sua esperienza nel wrestling,Mlada Morozova decise di provare ad entrare nel mondo delle MMA,essendosi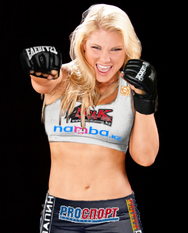 specializzata in passato in diverse discipline quali Sambo e Pugilato.
Ha affettuato il suo debutto nell'ottobre del 2012 sconfingendo Manaar Al Mehalel via submission (Kneebar) a Gruesome Cage Fighting: Let Me Entertain You.
Anche il suo secondo match si rivelò vincente battendo l'indiana Sharmistha Subramanian via TKO.
Vita Privata
Edit
Mlada Morozova è sposata,ma attualmente non ha figli.
Curiosità
Edit
Nonostante si sia trasferita da anni negli Stati Uniti,Mlada non parla ancora molto bene l'inglese. Questo è stato un punto di caratteristica durante la sua carriera da wrestler.
In passato ha fatto parte di lotte erotiche chiamate "mixed-wrestling",in cui doveva affrontare uomini con l'unico scopo di dominarli.
In Wrestling
Edit
Finishing Moves
Russian Crash (Flapjack)
Mlada Scissor (Mexican Armbreaker)
Signature Moves
Back Side Slam
Back Suplex
Gordbuster
Bulldog
Gutwrench Suplex
Side Slam
Spinebuster
Jumping Armbreaker
Russian Leg Sweep
Head Smasher
Hammer Lock
Cross Arm Stretch
Head Scissor
Triangle Hold
Nicknames
"Tsarina of the Ring"
"Russian Amazon"

Entrance themes
Брате Славяне - Аркона (REMIX)
Championships and accomplishments
Edit
EWS Women's Champion
GWF Women's Champion
GWF Hall of Fame (Class of 2014)