JACKIE ROBERTS

Nome

Jack D. Roberts

Ring Name

Jackie Roberts

Luogo di nascita

Minneapolis, Minnesota

Residenza attuale

Las Vegas, Nevada

Altezza

182 cm

Peso

80 kg

Debutto

TPPW #1 (Giugno 2012)

Federazione

TPPW
Jackie Roberts (Minneapolis, 05 Aprile 1985) è un wrestler ed un modello statunitense.
Ha abbandonato per il momento il mondo della moda per dedicarsi al wrestling professionistico, attualmente è sotto contratto con la TPPW.
Jackie è da sempre appassionato di moda e quando raggiunge la maggiore età si lancia subito nel mondo della moda. Dopo anni di palestra e di cura del proprio aspetto, ottiene una buona visibilità come modello a Minneapolis ed inizia a ricevere offerte molto importanti. Il suo unico problema è il suo carattere, che gli fa perdere definitivamente le possibilità di diventare importante.
Wrestling e TPPW
Edit
Un po' depresso per ciò che è successo, inizia a praticare wrestling per sfogarsi. Capendo che non ha più possibilità di diventare importante grazie alla moda, si rende conto che è molto dotato per il wrestling e si allena sempre più duramente. Nel mese di marzo 2012 debutta ed acquisce un po' di esperienza. Le sue azioni non passano inosservate e Scott Eriksen gli propone di entrare nella TPPW, una federazione appena nata ma discretamente ambiziosa. Jackie accetta ma solo se può portare con sé Amanda Newton, una stilista rimasta al suo fianco. Debutta nel primissimo show della TPPW e riesce ad avanzare nel torneo per l'assegnazione del titolo mondiale, ma in semifinale perde e quindi deve combattere per il titolo Light Heavyweight contro Henry Leon White e Mistic Zane.
Vita privata
Edit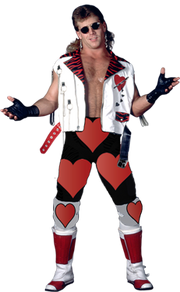 Si dice che c'è una storia tra Jackie e la sua manager/stilista Amanda Newton anche se non ci sono mai state conferme. Quello sui cui molte amiche di Amanda sono sicure è che lei è follemente innamorata di lui, sebbene non l'abbia mai ammesso publicamente.
Canzone d'ingresso
Edit
"Da Ya Think I'm Sexy" by Rod Stewart (Giugno 2012 -)
Nel wrestling
Edit
Beautiful Behading (Scissors Kick)
The Dive In The Pool (450 splash, usato raramente)
Trademarks
Edit
Sexual Series Of Elbow Drop: (l'avversario è sdraiato a terra, mentre Jackie lo colpisce con due elbow drop, poi l'ultima invece di buttarsi si blocca, muove il bacino sensualmente e si lancia colpendolo più violentemente di prima)
Super Kick (un Super Kick normale, solo che invece di far cadere l'avversario, esso rimane in piedi ma si abbassa in posizione per il suo Scissors Kick)
​Parco MosseEdit
Inverted Atomic Drop
Pescado
Asai Moonsault
Sleeper hold
Swinging Neckbreaker
Standing Dropkick
Moonsault
Diving European Uppercut
Inverted DDT
Leg Lariat
Springboard Senton
Springboard Crossbody
Tilt A Whirl Backbreaker
Roundhouse Kick
Diving Elbow Drop
STF
Swinging Neckbreaker
Knee Drop
Community content is available under
CC-BY-SA
unless otherwise noted.